Jamela Khan and Lynette Webb from EBSI (UK) LTD travelled to Ireland to attend CMETB's Multiplier Event and the final GYIT Partnership Meeting in Ireland on the 27/11/17 and 28/11/17.
On 27/11/17 Jamela and Lynette visited The Monaghan Institute Education Campus for a Multiplier Event which included a TECH Day and the Launch of the GYIT Career Guidance Pack.   The packs were distributed to 96 students and 8 teachers that attended the event.  The Tech Day proved to be very exciting for the students, as the morning started with John Kearney CEO from Cavan And Monaghan Education and Training Board (CMETB) welcoming everyone to the event.
Students were then introduced to guest speaker and Tech Innovator Colin Guilfoyle CEO  from Nebula Interactive a mobile games company who gave the students an insight into his career pathway into IT and then into the games Industry, he encouraged the students to use the resources available to them to start working on developing their own computer games.   The students who attended from various schools in Monaghan then went onto compete in challenges, such as an IT quiz, Social Media quiz and then finally the Innovation Challenge in which the students had to design a mobile app for their school.   Jamela Khan and Colin Guilfoyle found it to be a difficult task to judge the innovative and exciting ideas that the students presented at the end of the day.  The winning teams won some great technical equipment for their schools, such as a Drone, VR Headsets and Robots.
Martina Rooney – Project Lead on GYIT for CMETB organised a great day, and everyone that attended felt the day had been a great success.
Edel Hesnan – Project Lead on GYIT for FIT also had an event in Dublin which once again saw nearly 100 students attend and take part in an interactive day.  Students and teachers at this event were also able to take away a copy the Careers Guidance Pack and were made aware of the other GYIT resources which are now available for all students, teachers and careers advisors across Europe to use via the GYIT website.
On 28/11/17 all partners attended the final meeting of the  GYIT Project which was held at FIT`s office in Dublin.  Although the project comes to an end in December 2017, the resources are still available for teachers or students to access on the GYIT website.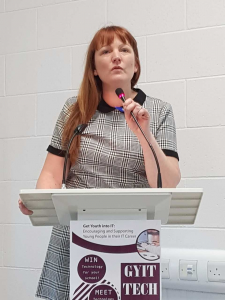 Martina Rooney – Project Lead on GYIT for CMETB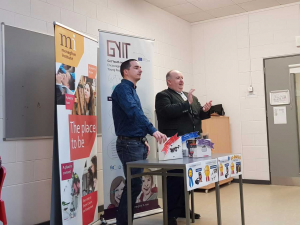 Colin Guilfoyle CEO from Nebula Interactive on the left and Paddy Flood CMETB Director of Schools on the right.